NAPOLI VESUVIO 650 & 800
Stainless Steel Tunnel Wood Oven
The Vesuvio Range of Portable Italian inspired wood fired pizza ovens have been designed and developed for the Home chef and inspiring Pizzaiolo.
The Vesuvio is capable of heats up to 450°C in under 20 minutes, making this range of ovens one of the best in its class!
The Vesuvio is manufactured using a 316 Stainless Steel dome and face,A High heat powder coated stainless steel body with over 100mm of refractory insulation meaning the oven stays hot for longer periods of time.
Napoli Oven Co uses a tripple layer of Refractory Floor materials including 45mm 300mm x 300mm premium refractory floor tiles, this insures the oven has the utmost highest level of heat retention!
Delivery available Australia wide and New Zealand
NAPOLI VESUVIO 650
Stainless Steel Tunnel Wood Oven
Specifications
2kg per hour (*Australian hardwood)

Well seasoned Australia Hardwood
Construction
316 stainless steel dual layer Inner Shell

304 stainless steel dual layer door

High heat powder coated case

304 stainless steel dual insulated chimney

High heat refractory flooring

40mm refactory silica floor tiles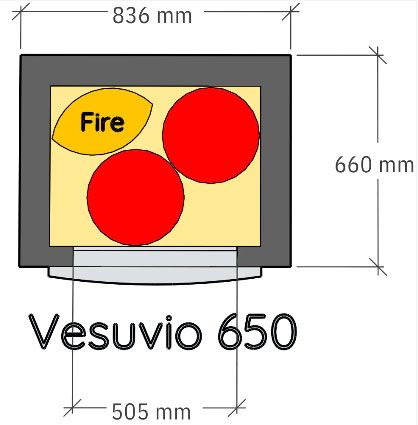 NAPOLI VESUVIO 800
Stainless Steel Tunnel Wood Oven
Specifications
3.9kg per hour (*Australian hardwood)

Well seasoned Australia Hardwood
Construction
316 stainless steel dual layer Inner Shell

304 stainless steel dual layer door

High heat powder coated case

304 stainless steel dual insulated chimney

High heat refractory flooring

40mm refactory silica floor tiles